For @yala @mladen
cc. @vliegey
People who have accounts from previous conferences aren't able to upload.
Three examples ( <> indicates my first responses ). I'm including names so that they can be identified on Scriptum and returned to in the email trail to answer them.
Inge Røpke
I got "this action is not allowed" when following the link to upload a proposal.
Now I get "Invalid email or password" when I try to follow the link (both with this new password and the previous one).
I haven't received any notification of the new password [set by MB as admin]. Maybe it needs more time to work?
Christian Kerschner
I've managed to go to my account on the Malmö web (where it shows my contributions I had then), but I don't see where I can update or upload anything.
<<Hi Christian,
Does this link work?
https://scriptum.degrowth.net/en/MAN2020/events/new >>
the link gets me to exactly where I was before. I just don't know what to do next. I don't seem to be able to upload anything. Or am I overseeing something? Have clicked on everything I think.
see screenshot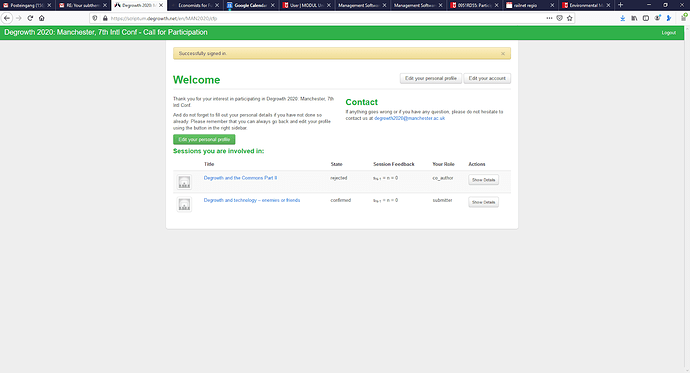 Brian Davey
I was at Budapest and helped in the admin of Malmo so I've logged in (and changed my password ) but can find no place where I can upload the a call for participation in a sub themes (in my case a mental health sub theme). There are places where I can upload for "sessions" which I take to mean individual presentations. Also there seems to be a mixture of references to Malmo and Manchester. Your email to me says:
"You will be able to upload your proposal at https://scriptum.degrowth.net/en/MAN2020 which will then be used to archive and deposit abstracts and papers as and when they become available. "
However, when I click onto your link what comes up is a different link which is this: https://scriptum.degrowth.net/en/malmo2018
<<Sorry about this. I can't see why you are having this Malmo problem, in that I can't replicate it.
I'll ask the technical team to investigate. However, it might just be a browser cache problem at your end. If so, this might help: https://www.refreshyourcache.com/en/home/ and then try again. >>
I tried refreshing the cache and it made no difference. I am still sent to an old web page that refers to Malmo. I use linux mint as my operating system as chromium as my browser. However I also tried using firefox as a web browser and that made no difference either. I am stuck.
Maybe it would all be clear if I was sent to the proper page but I can find no place where I can upload anything.